HEWN, No. 291
"There is no end to what a living world will demand of you." -- Octavia Butler
Another newsletter penned in an airport waiting area — I'm JFK to LAX tonight, having been on the east coast for the first time since Kin and I escaped from New York in June. I can't wait to get home to the SoCal warmth and sunshine — the cold and wind in NYC today helped remind me of why we moved. But you can see the smoke from the Malibu fire from my apartment, I hear, and I think a lot about how soon enough even the most privileged among us won't be able to trade "bad weather" for "good weather" anywhere. Paradise burned to the ground this week, and I saw someone on Twitter remind folks that Octavia Butler's Parable of the Sower is set in LA in 2024 — a story of how a group of Californians join a migrant caravan in order to try to escape the fires and the violence. It's both too perfect and too awful.
I've been in Princeton, New Jersey since Tuesday evening, watching the elections results in horror in no small part because global climate change wasn't the top issue for everyone everywhere. Things are going to get worse.
Meanwhile, I keep thinking that I've taken my last research trip — of the book, of 2018 — but having spent the past few days going through the archives of Ben D. Wood, former Columbia University professor, IBM consultant, and head of the Educational Testing Service, I'm strangely motivated to squeeze one more trip in before I start the actual book-writing process. I'm probably procrastinating. My back hurts from spending hour after hour sitting and flipping through page after page of letters and reports and carbon copies and newspaper clippings and such. My head hurts after trying to speed-read box after box of documents and decide if each or any piece of paper is worth photographing or note-taking or stopping and reading top to bottom. I'm exhausted, and yet, I can't begin to express how much I love archival research and the possibility there is more to the story to uncover. I know archivists shudder when people use the verb "discover" to describe things that folks like me stumble upon while going through the boxes and folders they clearly already labeled. (That is, the stuff archivists know is there already.) But there is this real excitement about finding name and dates and episodes that, if nothing else, no one else has really written about at length before. (Or, as in the case of Wood's Wikipedia entry, folks have got the story wrong about.)
One of the things that I love about archival research too is that I always walk away with half a dozen idea about other, new, and different writing projects. (It's also one of the things I hate since I have to finish this project.) Did you know, for example, about IBM's involvement with Nasri Khattar and his idea for "unified Arabic alphabet"? Or what about the Civil Aeronautics Authority's efforts during World War II to boost aeronautics education in high schools — part of an effort to identify potential pilots and to "air condition America"? (That is "condition" in the education psychology sense. Sound the Skinner klaxon!)
Strangely (or maybe it's not so strange), I'm finding it much more satisfying to look deeply into our past than to think too deeply about our future.
Teaching Machines isn't going to be a history of educational computing, I'll tell you now. Too many people have retold versions and snippets of that story already. Computers aren't the most innovative thing that ever happened to education. They're not even the most interesting. That being said, Joy Lisi Rankin's article in Slate this week about "how computing pioneers at Dartmouth in the 1960s gave rise to the macho tech culture we see today" is pretty damn interesting.
Ed Yong wrote about that viral video of the baby bear and mama bear making their way across a snow-covered cliff. You know the one — the one that some educators have said shows the bear had "grit." Yong points out that the bears were being filmed by a drone, and the mother would never have made her baby take such a precarious path had it not been for the technological intrusion. Come to think of it, the whole thing — the ignorance and dismissal of trauma, the lack of attention to structural violence, the use of technology to shape behavior — is a perfect analogy for how "grit" gets wielded in schools.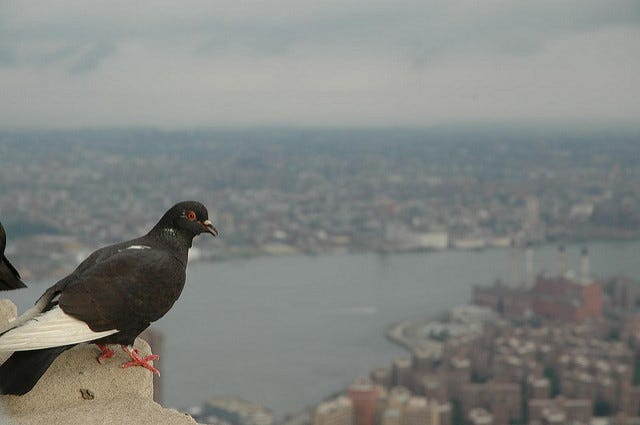 (NYC pigeon looks down on you. Image credits)
Yours in struggle,
~Audrey