HEWN, No. 324
Sorry, you can't get to Sesame Street from here any more
This week's pigeon is an Indian Fantail Pigeon. (Image credits) According to one story, Indian Fantail Pigeons first came to the US in 1926, shipped in a cage of pythons that were en route to the San Diego Zoo. Needless to say, only two of the birds survived the trek, but the zookeepers decided their plumage was interesting enough to keep and breed them.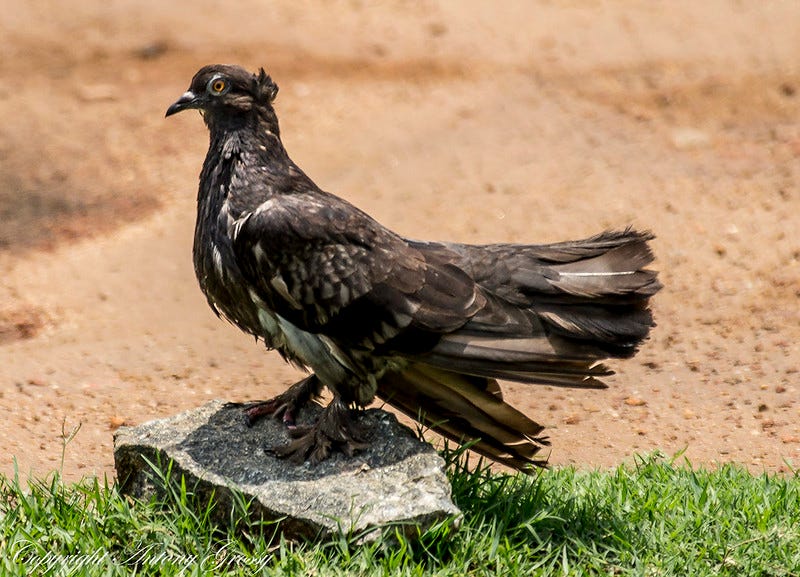 Now, I'm not sure if this story is true. With just a cursory search at least — I really cannot spare the time today to do a deep dive into the history of pigeon or python procurement — I couldn't verify that the San Diego Zoo had received a shipment of snakes from India that year or that it had decided to breed Indian Fantail Pigeons from then on. But the story is repeated on a couple of pigeon-related websites, and you can see perhaps why it's a story that American pigeon enthusiasts would like. So why ask questions, right?
---
I've been thinking this week about a 1985 interview with MIT computer science professor Joseph Weizenbaum. The interview opens with a question about the role of computers in education — a question that Weizenbaum dismisses in part because it assumes that computers are good and useful and necessarily have something to offer. "The computer has almost since its beginning," he says, "been basically a solution looking for a problem."
It's a "solution" that, in its search for a problem, has come "to use entire generations of schoolchildren as experimental subjects." (Related: "Psychodata: disassembling the psychological, economic, and statistical infrastructure of 'social-emotional learning'" by Ben Williamson.)
Even if we can demonstrate that introducing computers into classrooms helps students improve their test scores (or what have you), Weizenbaum argues there are still many questions to be asked about why students struggle in the first place. "The question, 'Why can't Johnny read?' must still be asked."
There is a very good reason that questions of that kind are uncomfortable. When we ask this question, we may discover that Johnny is hungry when he comes to school, or that Johnny comes from a milieu in which reading is irrelevant to concrete problems or survival on the street — that is, there is no chance to read, it is a violent milieu, and so on.

You might discover that, and then you might ask the next question: "Why is it that Johnny comes to school hungry? Don't we have school breakfast programs and lunch programs?" The answer to that might be, yes, we used to, but we don't any more.

Why is there so much poverty in our world, in the United States, especially in the large cities? Why is it that classes are so large? Why is it that fully half the science and math teachers in the United States are underqualified and are operating on emergency certificates?

When you ask questions like that, you come upon some very important and very tragic facts about America. One of the things you would discover is that education has a very much lower priority in the United States than do a great many other things, most particularly the military.

It is much nicer, it is much more comfortable, to have some device, say the computer, with which to flood the schools, and then to sit back and say, "You see, we are doing something about it, we are helping," than to confront ugly social realities.
Sesame Street was one education technology that, from its outset, did try to confront those social realities. The show, first pitched by Joan Ganz Cooney in a 1966 report to the Carnegie Foundation, recognized that "disadvantaged children are inadequately stimulated and motivated during the preschool years and the belief that the right kind of early intervention can provide adequate compensation have done much to create the present ferment in cognitive development research and preschool education." The initial mission: create a show for public (not commercial) television that would develop school readiness of viewers age 3 to 5, with particular emphasis on the needs of low-income children and children of color.
Sesame Street is the most researched television show in history — not only in its reception but in its development. From the outset, there was attention to repetition and sequencing, for example. There was careful consideration of when to use straightforwardness and when to use fantasy; consideration of how dramatic tension and humor affected comprehension. With a mission of reaching preschoolers of color, Sesame Street cast actors of color. The curriculum was relevant and meaningful and age-appropriate. Sesame Street knew the problem; it hoped to be a solution.
And then in 2015, it moved from PBS to HBO. It started a venture capital arm the following year (to invest in "data-driven education products that promote personalized learning and educational technology"). This week, it moved from HBO to HBO Max, an even more exclusive streaming service.
What made Sesame Street decide to abandon its mission? What made it think that ed-tech investment was the solution to early childhood education, to childhood poverty, to racism and discrimination? Not research, that's for damn sure. Not a commitment to social justice. Somewhere along the way, Sesame Street decided that the brand, the computer trumped social change.
Weizenbaum again:
I think the computer has from the beginning been a fundamentally conservative force. It has made possible the saving of institutions pretty much as they were, which otherwise might have had to be changed. For example, banking. Superficially, it looks as if banking has been revolutionized by the computer. But only very superficially. Consider that, say 20, 25 years ago, the banks were faced with the fact that the population was growing at a very rapid rate, many more checks would be written than before, and so on. Their response was to bring in the computer. …

Now if it had not been for the computer, if the computer had not been invented, what would the banks have had to do? They might have had to decentralize, or they might have had to regionalize in some way. In other words, it might have been necessary to introduce a social invention, as opposed to the technical invention.

What the coming of the computer did, "just in time," was to make it unnecessary to create social inventions, to change the system in any way. So in that sense, the computer has acted as fundamentally a conservative force, a force which kept power or even solidified power where is already existed.
They might have blocked off Sesame Street, but we can't let the bankers and the tech CEOs win.
Yours in struggle,
~Audrey