HEWN, No. 337
"Our house is on fire" -- Greta Thunberg
2020 doesn't seem to be off to a particularly auspicious start, what with the fires and the threats of war. But here we are, nonetheless, facing a brand new year. A leap year, dammit, so it's longer than usual. And in the US, an election year too. I don't know about you, but I'm already ready for this one to be over.
This week's Columbidae is the crested pigeon, which is native to Australia — a country whose leaders, according to one of its most well-known novelists, are "committing climate suicide." (Image credits)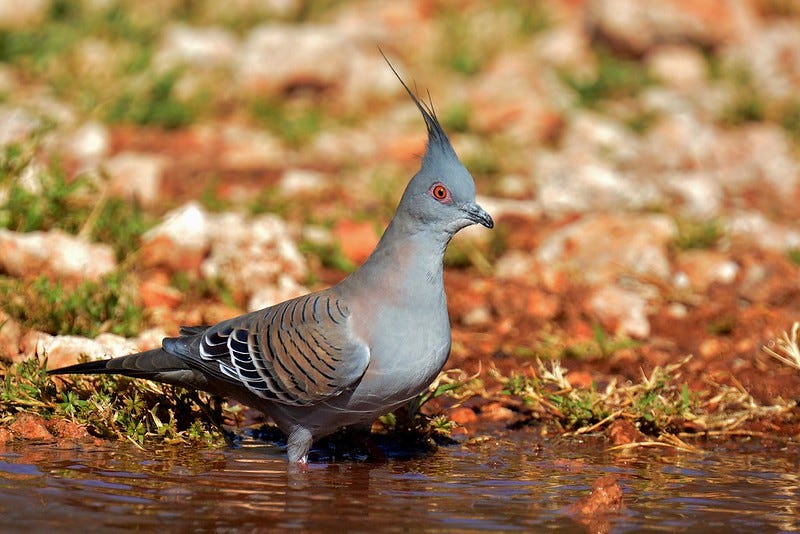 The response to my article "The 100 Worst Ed-Tech Debacles of the Decade" has been overwhelming, and I've spent the first few days of 2020 dealing with the influx of messages it's prompted — mostly positive messages thankfully, although I haven't looked at the comments on Reddit or Hacker News. (Good grief, why would I?!)
I want to respond briefly to one of the most frequent complaints I've heard: that I did not also write a list of "The 100 Best Ed-Tech Achievements of the Decade." And that somehow that means my analysis is incomplete.
I'm not sure why folks want me to tell them what's praiseworthy. As I said on Twitter: get your own moral compass. Look at your own practices, at the practices of those around you. And do better.
But more importantly, let's be clear: the technology industry — education technology or otherwise — does not need my validation. It needs criticism. It needs criticism that refuses to come with sugar-coating and a few plaudits. There are not "two sides" to this issue that deserve equal time. There are not "two sides" — some good and some bad ed-tech — that exist in any sort of equal measure.
What if anything "good" about ed-tech this past decade was so overwhelmed by all the money funneled into the "bad" that the "good" didn't matter one whit? What if all that "bad" meant any semblance of "good" was stifled, suffocated? What if, as David Kernohan has suggested, there wasn't anything this past decade but technological disappointment? What if there wasn't anything good about ed-tech?
I'm serious. Sit with that sentence a minute before you pipe up to defend your favorite app or social network or that cute robot your kids coded to move in a circle. What if there wasn't anything good about ed-tech? What if ed-tech is totally inseparable from privatization, behavioral engineering, and surveillance? What if, by surrendering to the narrative that schools must be increasingly technological, we have neglected to support them in being be remotely human? What if we can never address the crises of our democracies, of our planet if we keep insisting on the benevolence of tech?
Yours in struggle,
~Audrey