HEWN, No. 343
"Charity is no substitute for justice withheld" -- Saint Augustine
People who take money from that powerful education foundation — you know the one, the one that turns 20 years old this year — always insist to me that they've never been compelled to change their policies or practices. Of course, it doesn't have to coerce its grantees to say and do things. People self-censor. They shape their initiatives to suit the foundation's philosophy and its goals. They value the things the foundation says it values; they measure the way the foundation says it measures. Because if they rely on the foundation for funding, they know to fall in line. They needn't be told. That's how the power of philanthropy works. It sets the agenda. Personalized learning. The Common Core. Charter schools. Measures of Effective Teaching. It didn't push for these ideas because that's what people wanted. It helped convince politicians that these were the ideas that education needed. That is to say, education policy has not been shaped by democratic forces as much as it has been by philanthropic ones — by the billionaires who wield immense political power through their "charity."
Rather than reject this plutocracy — a plutocracy that has corrupted so many of our democratic institutions long before President Trump ever came into office — Michael Bloomberg is asking Democrats to embrace it. Actually, he doesn't even have to ask, does he. Organizations and politicians that have received money from him — and as The New York Times shows, he has built a massive empire of political influence — know what they must do: endorse the billionaire. It is, I think, one of the most depressing responses to racist authoritarianism that I have ever seen: endorse a different racist authoritarian and pretend like his charitable giving is not, in the end, as self-serving as the other's. Public education has paid the price for letting philanthropy stipulate the terms of the debate. Now some folks want the whole damn country to be bought and sold this way.
This week's Columbidae is the Mindanao bleeding-heart. Native to the Philippines, the habitat for this bird is rapidly decreasing, and it is listed as "vulnerable" by the IUCN Red List. (Image credits)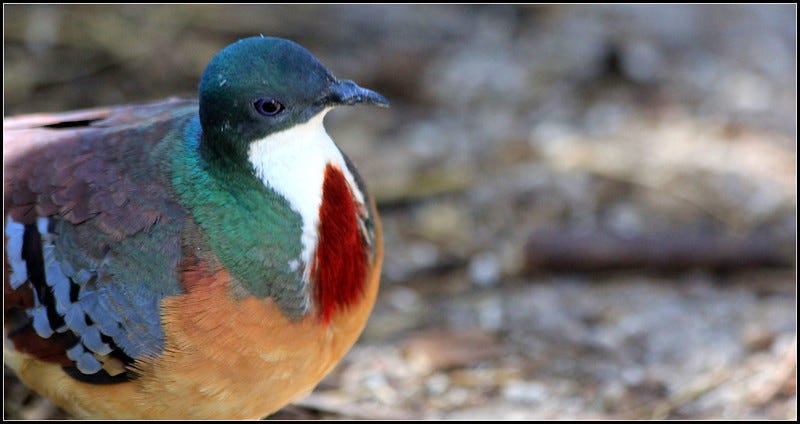 A few things to read on ed and tech: Ben Williamson writes about the Chan-Zuckerberg Initiative. Dana Goldstein writes about phonics. Greg Miller writes about "The Intelligence Coup of the Century." That's all I got.
Yours in struggle,
~Audrey