HEWN, No. 346
Kick me under the table all you want. I won't shut up -- Fiona Apple
I'm not sure what to write in this newsletter right now. I've spent the past decade or so warning folks about the future that (education) technology has envisioned for us — one in which automation and surveillance are branded as "personalization," one in which private industry dismantles public institutions and public spaces and replaces them with screens and buttons. Frankly, I am tired of having to repeat myself, and more than a little pissed off we have let things get to this point.
So this newsletter has sat dormant for the past few months, as I've been reluctant to have it echo what I've seen Twitter become: a long list of reasons why schools, particularly K-12 schools, should avoid using the videoconferencing software Zoom. Or that's what the first few weeks of school closures looked like — concerns about the company's security and privacy practices; statements by its CEO marveling that Zoom had never considered that its product would be used for targeted harassment. Now, all the latest takes are about Zoom exhaustion, about the emptiness and loneliness of this particular pandemic pedagogy.
Oh. All this sucks? Really? Wow.
I have been increasingly loath to jump into any of the conversations about "the future of education," although I suppose I did poke at it a little with a talk I gave Friday at CUNY on the history of the future, on the rise of futurist-consultants, and on the necessity that we wrestle the future of school from their high-priced grip.
It feels wrong to speculate about what education will look like on the other side of this pandemic as we are still very much at the beginning of it. And yet it feels negligent to let the privateers and the techno-solutionists control the narrative.
It also feels impossible to grieve and organize. But grieve and organize we must.
---
In personal news, Kin and I have relocated — yes, again — to Oakland. Who the hell moves during a pandemic? Well, lots of folks do for lots of reasons. The lease is up. A new job. A better life. A new start. Etc.
It is so good to be back in California. I don't know that one always recognizes how much the grey gloom of the Pacific Northwest dampens one spirits until one gets to live in the sunshine again. And Seattle under quarantine was eerie. It's like the tech workers (at least those in our apartment building) already lived that way — always inside, always online, ordering everything to be delivered to their doorsteps.
The move was, no surprise, an anxiety-inducing challenge. It was particularly hard to leave both our kids up north, as their lives, like most folks', are very much in limbo now. And we did the whole thing ourselves — we didn't hire movers, that is. We rented a U-Haul and drove almost straight through from Seattle to the Bay Area, only stopping for gas. I'd hand Kin a pair of rubber gloves so he could fill up the tank. We ate the snacks that I'd packed, cursing that I'd bought two different kinds of nuts but no fresh fruit. We were thankful that the rest areas along I-5 were open and very, very clean. We bought masks for the trip, which seemed perhaps a bit too much, but now we wear them every time we go outside.
I love Oakland already, even though it's so strange to move to a neighborhood and figure out its vibe when all the stores and restaurants are closed. But I trust the history of resistance and resilience here. I'm happier. I'm reading books again. I'm writing again.
---
This newsletter's Columbidae is the laughing dove. (Image credits) Its call, according to Wikipedia at least, is really more of a chuckle.
Find joy where you can, I guess.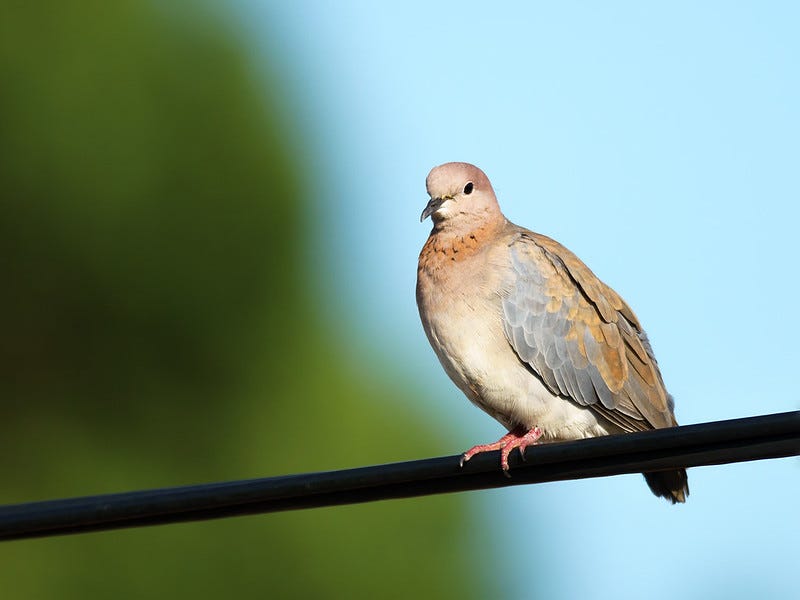 Yours in struggle,
~Audrey