HEWN, No. 347
"Another world is not only possible, she is on her way. On a quiet day, I can hear her breathing" -- Arundhati Roy
I had a string of days of great productivity this past week or so — links to two talks I gave are below — and I thought that finally I'd shaken the anxiety and depression that has made writing so hard lately. But then those days were followed by a couple of sheer exhaustion where I barely managed to answer emails.
I need to exercise more. That's part of the problem. I used to walk to the grocery store every day — it took about an hour round-trip. It was a nice break from work. Now I barely leave the house. I could still go for walks, of course. But "going out" just to exercise has little appeal, even though the weather is beautiful. Every trip outside feels risky. And when I do step outside, I am both heartbroken that everything is closed and frustrated that everyone seems to be out-and-about, far too many without masks.
I took my first video-based yoga class this week — something I'll do regularly now — because I need to focus on my breath and my body and because I want to support my friend Margarita whose income has disappeared due to the closure of the studios where she works. Even if they reopen, she's immune-compromised; she can't go back.
I am making more of my decisions like this: how do I need to re-order my time and my priorities and my purchases so that the people and places I love survive? The New Yorker's Helen Rosner interviewed chef Tom Colicchio this week about the fragility of the restaurant industry and its food supply chain (and certainly some of their observations can be applied beyond just what and where we eat). Me, I've signed up for a local CSA — a half share of vegetables and full share of fruits and nuts weekly. I've ordered meat from a local ranch network. I signed up for the wine club at the neighborhood wine shop. I've bought flour and butter and brown sugar and yeast from the bakery around the corner. All of this takes so much more thought and effort than did that once-a-day walk to the grocery store. And I am so privileged that these are the choices I have, the decisions I get to make, that I live in a city, in a neighborhood where this is possible. The world I want to live in is cooperative and sustainable; it is interconnected. I don't want the pandemic — or capitalism, for that matter — to flatten our communities under corporate monopoly.
So much of what I love in the world was already so brittle. You can see the brokenness more than ever. And the billionaires are circling like sharks, sensing blood in the water. The Gates Foundation will help New York "reimagine education," says Governor Cuomo. Eric Schmidt will help the military reimagine war. It's all part of "the Screen New Deal," as Naomi Klein calls this latest manifestation of disaster capitalism.
Some reading and viewing recommendations:
This week's pigeon is the kererū, a wood pigeon native to New Zealand — best known, I think, for sometimes getting so drunk on fermented fruit that they fall out of trees. (Image credits)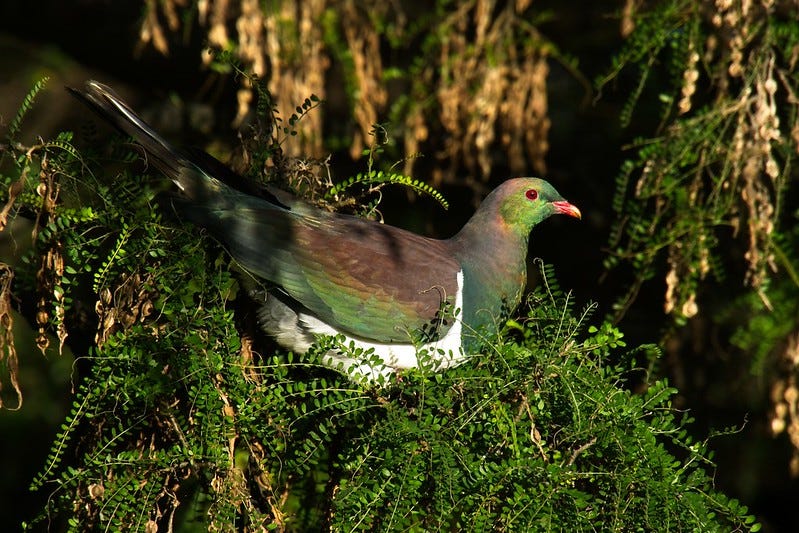 Look out for one another, dear pigeons.
Yours in struggle,
~Audrey