HEWN, No. 349
"The spotted hawk swoops by and accuses me — he complains of my gab and my loitering" — Walt Whitman
Thank you, everyone, for your outpouring of love and support. It has been quite overwhelming — all of it — but I am grateful for your kind words. I am so utterly broken, but you know me. I am also deeply committed to work to make this world a better place.
In my last newsletter, I noted that there had been no national mourning for the hundred thousand deaths from the coronavirus. But now, there is. Now, our collective grief and anger have spilled out into the streets, uncontainable after we watched the police murder George Floyd. The officer stared into the cellphone camera with his knee on Floyd's neck for almost nine minutes, with all the confidence of a cop who believed that there would be no consequences for squeezing the life out of a Black man.
Uncontainable. Inconsolable. Over the past few months, we have all experienced the grotesque failures of the state, and we've all lost something to the pandemic — directly or indirectly from the disease. But racism and white supremacy are the scourge that have destroyed so much more, for so much longer. "America Is Giving Up on the Pandemic," Alexis Madrigal and Robinson Meyer argue. But I don't think that Americans are giving up on justice. We can't. People will clench their fists and fight on.
"Black lives matter," brands have all suddenly proclaimed. But we should know better than to take them seriously, particularly the technology companies who build tools and services that put Black lives at risk. It's "Black Power-washing," Chris Gilliard writes, "wherein companies issue essentially meaningless statements about their commitment to Black folks but do little to change their policies, hiring practices, or ultimately their business models, no matter how harmful to Black people these may be." These companies speak, to borrow from the situationist Raoul Vaneigem, with corpses in their mouths. (And yes, that includes many ed-tech CEOs. Just because I'm silent on Twitter right now as I mourn my son, don't think I don't see you showing your whole ass with your "all lives matter" "let's hear both sides" bullshit.)
These are unfathomably dark times, and these are strangely hopeful times too. I am particularly heartened to see school districts and universities move to cut ties with police departments — ties that have long served to brutalize Black children. I worry, as always, that the white supremacist surveillance impulse runs so deep in education and education technology that policing will remain even without "school resource officers" patrolling the halls. (Somewhat related: I'm not sure how I managed to string a sentence together, but I gave a talk a week or so ago, "'All Watched over by Machines of Loving Grace': Care and the Cybernetic University." There is no loving grace in substituting the police with algorithms.)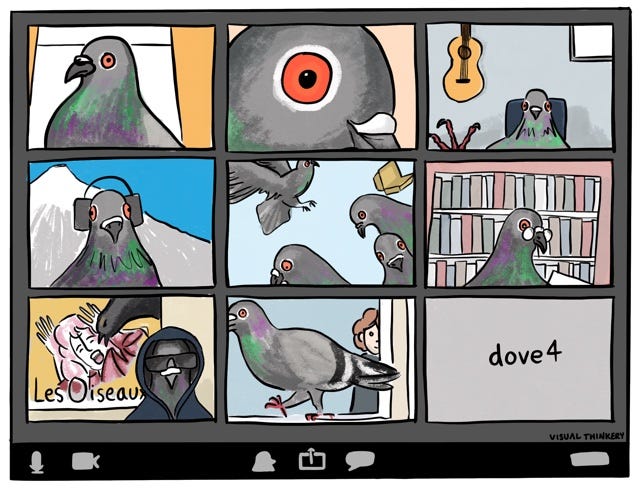 This week's Columbidae is the Zoom pigeon in its unnatural, natural habitat. (Image credits: Bryan Mathers) Zoom pigeon stickers and Zoom pigeon mugs are available to my Patreon supporters. A portion of this month's earnings will be donated to the Black Organizing Project, which works to eliminate police from the Oakland Unified Schools.
Yours in struggle,
~Audrey